Oswego High School Principal Mike Wayne will be retiring at the end of the school year.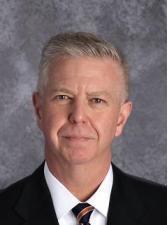 That announcement was made at Monday night's Oswego SD308 School Board meeting. Wayne was thanked by members of the board for his years of service.
Wayne has served as principal at OHS since his appointment in July of 2006. He is a native of Crete, Illinois and has been an educator for over 33 years, teaching and coaching at Rich South High School and serving as a dean at Niles West High School and associate principal at Downers Grove North High School.
In a statement, Tuesday, Supt. Dr. John Sparlin said, "Mr. Wayne has been the face of OHS for the past 14 years; he knows and genuinely cares about his students and his staff. We wish him the very best in his well-deserved retirement."
When Wayne began at OHS in 2006, there were a little over 1,500 students attending the school -- a number that has grown to 2,800 students. Staff at OHS has also increased by 100 people.
Wayne said in the statement that he will greatly miss the relationships he's made at OHS with students, staff and families. He is the second longest serving OHS principal since the school's inception in 1886.  
It has not yet been stated who will be hired as principal at OHS for the next school year but officials say the search process has already begun and the process will include input from staff and parents.