After months of discussion in hopes that it could be held, Sandwich Fair Association Board President Larry Dannewitz has confirmed to WSPY that the 2020 Sandwich Fair is canceled.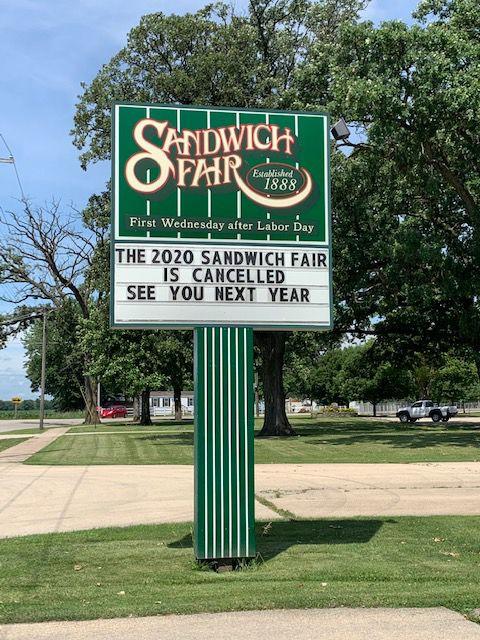 The Board of Directors of the Sandwich Fair Association voted unanimously this week to cancel the fair, which had been scheduled for September 9-13.
Through wars, bad weather and nearly any other obstacle, the Sandwich Fair has continued.
However, because of COVID-19 concerns and based on information from the DeKalb County Health Department, the Illinois Department of Public Health, and guidelines from Illinois Governor JB Pritzker, Dannewitz says this will be the first time the Sandwich Fair has not been held since it began in 1888.
Thousands of people attend the Sandwich Fair during the annual five-day run. Illinois is currently in Phase 4 of the state reopening plan, which allows for up to 50 people per group setting in close proximity. But under the plan, it's outlined that in order to move into Phase 5, "a vaccine or highly effective treatment" needs to be widely available or there needs to be, "the elimination of any new cases over a sustained period."
Dannewitz says the association doesn't believe that phase will be reached in time for the fair.
Chris Janson was announced as the main stage concert for this year's fair but Dannewitz says that tickets had not gone online for sale so there won't be refunds to worry about.
WSPY's Tyler Bachman asked Dannewitz if there are any other plans in the works now that the fair won't be held this year.
Dannewitz told WSPY in an interview on Tuesday that there are many elements that make up the fair that now have to be dealt with.
Dannewitz says the fair board's main focus now is to, "get everyone on board for next year."
The 133rd Sandwich Fair, now to take place next year, is scheduled for September 8-12, 2021.
Hear more from the interview with Sandwich Fair Association Board President Larry Dannewitz, here: